THE WORLDS FIRST BOOK ENEWSLETTER GIVING KINDLE PAPERWHITES TO READERS FORWARD DEPLOYED IN OUR MILITARY.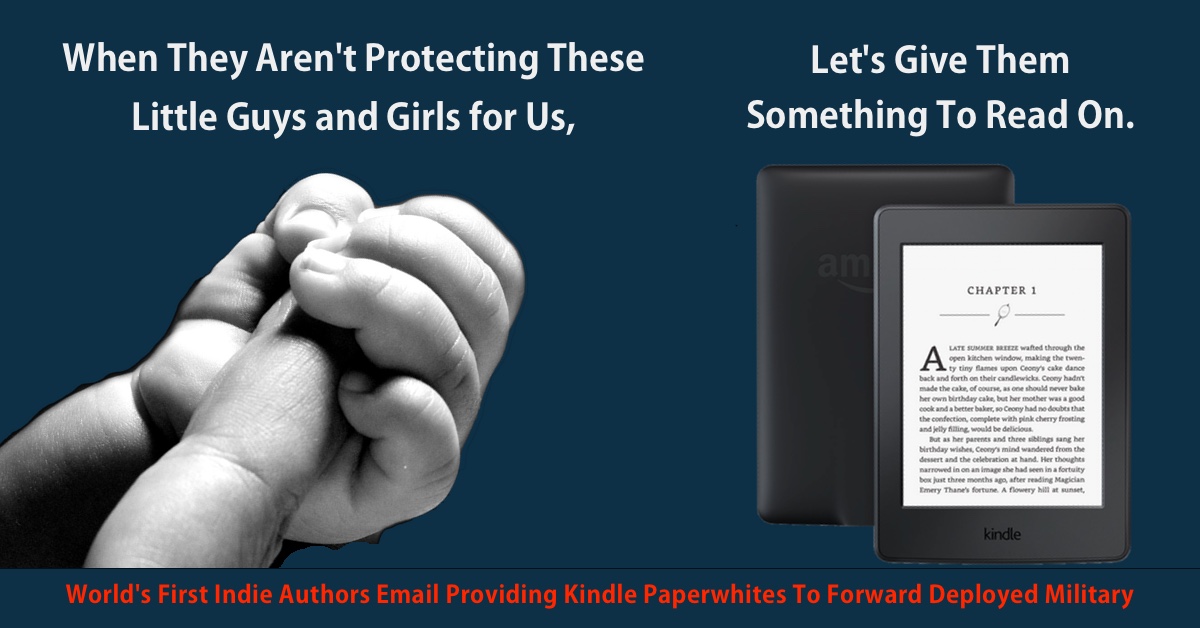 Focused on introducing Indie Authors to Readers in the United States, using Amazon Affiliate Links to power the purchasing of Kindle Paperwhites to give to Active Serving Readers.
 The more you read, the more We can give away.
HERE TO LEARN HOW THIS BOOK NEWSLETTER WILL WORK?
HOW IT WORKS
You sign up to receive email newsletter with Indie Book Announcements in it (more like a catalog separated by Genre) – Arrives at 

MOST

 1 time a week.
When a book interests you, click the link to see more on Amazon.
Should you buy anything, often a small advertising fee will be paid by Amazon to me a few weeks later. This money helps to pay for the effort (which includes Paperwhites, email costs, hosting, services, shipping, blah blah blah)
WHO DOES IT HELP?
Active Deployed Military members that love to read – they receive Kindles (Using Rafflecopter to choose the winners each time).
Indie Authors who get opportunities for discovery they did not have before.
You!

Find New Authors – By getting chances to learn about new and undiscovered Authors who don't have a platform (email list, money or skills to advertise themselves etc.)
Get Advanced Copies Before They Come Out – ARC opportunities (Advanced Reader Copies – usually given away by new authors or authors with new books in exchange for a review if you are willing).
Get Free or Cheaper Books – Free or lower priced books advertised for this newsletter
WHAT DO I NEED TO DO?
Open for the newsletter and see if any books interest you. If not, just close the email and wait until the awesome and amazing next one!
HOW DO ACTIVE (FORWARD DEPLOYED) SERVING MILITARY MEMBERS WIN?
Each time we pull a name (first one, July 4th, 2016) we go to this raffle list above and tell it to pull a name. We will contact the Active Serving Personnel and place their name in the next email going out. Once we have confirmation of the member and their Forward Deployed address, we will have the Kindle shipped to the Active Serving Military Reader.
Pictures with the Kindle when you get it would be really cool, but aren't a requirement.
You can place your name in the list, but you will need to provide a name when we contact you.  This will not be sent to a standard U.S. address. We need to confirm this Kindle for a U.S. Serving Military Member (on base somewhere).
FAQ'S (Or, Frequently Asked Questions I think you might ask).
Is this a non-profit?
NO!  I have no idea if this is even going to last beyond the two (2) Paperwhites I'm personally committed to buying and giving away.  So, I'm not about to setup a bunch of overheard to do that.  I am, however, interested in if I can make a profitable marketing effort that helps those in the Military, Indie Authors (something I've been doing for a while) and readers all at the same time. I'm not charging the Indie Authors, either.  Most early (newbie) Indie Authors don't have any money, and what little they have, they NEED to spend on a good cover in the beginning.
Who is paying for this stuff, anyway?
Well, me right now.  I'm going to give away about $450 in Kindles (2), $170 in Rafflecopter Fee's (2 months), Email stuff, email setups blah, blah, blah.  Should any Affiliate income happen, it will go against these expenses.
You, the reader, aren't hit with any extra cost.  You click on a link and shop at Amazon as normal.  Amazon pays us who find products (in this case books) and put them in front of buyers (in this case readers).  The commission is between 4%-7% for me so far.  So, if you buy a $0.99 book, say I'll get $0.07 and for a $3.99 book, I'll get about $0.30 commission.  Amazon pays nothing for KU Borrows and other stuff for weird reasons I can't fathom, yet. I have been paid as much as $7.43 one time when a person purchased a DeWalt 20v tool.  I've heard of the Unicorn purchases at Christmas time when someone clicked a link, but then went on to purchase a Sony Playstation.  That would probably be at least a $25.00 commission.  Ten of those and I can buy a Paperwhite! (So, you know, just encouraging the opportunity to purchase PlayStations once you click on a book, ok?) (LOL – No, don't… Buy them books!)
Are you intending to make it a non-profit?
Yes and No. On the No side – I'd like to eventually make this email newsletter powerful enough to do some awesome stuff with the concept for a lot of people. However, pushing a Non-Profit (I'm thinking) limits me. So, you will have to decide if you believe I'm trustworthy enough to be doing some good for you, for the people who receive the Kindles and Indie Authors. If I'm not? PLEASE don't sign up. It's that easy. I'm pretty open, and usually I'm around on the FB page, so hit me up if you have any questions! (Or, on the Amazon Forum where I've been known to chat as well… Like all the damn time).
On the Yes side – I'm working to connect with a Military Focused Non-Profit and move some of the opportunities that you great readers have already asked me about to them.</li></ul>
Are you going to stop writing?
Holy crackers, have you seen how many books I have to go?  Damn, I can't stop writing for like… 25 books minimum.  My latest 'oops' was with Michael.  Now, he has a series coming out called 'The Second Dark Ages' which will parallel books 15-21 in The Kurtherian Gambit.  So, no.  This is an effort to do some good, create a freaking killer marketing effort that pays for itself and is cool as … um… something I shouldn't say… to be a part of, nothing more.  If I also make some money doing it?  I'm happy to do that.
Are you going to stop cussing?
Only when everyone in the Military stops cussing, so basically never.
Will you get more sales from doing this?
Please, I hope so! I'd love to get more fans, but I am not doing this to GET fans.  I have another email list already being worked on to accomplish that goal.  However, if you want to support me (personally, the Author Michael Anderle) then sign up for my Kurtherian Gambit email list and buy a new book when it comes out, WOOHOO! 🙂  CLICK HERE TO SIGN UP FOR THAT EMAIL LIST.