CHAPTER ONE
PlanetDevon, Code-Named "High Tortuga"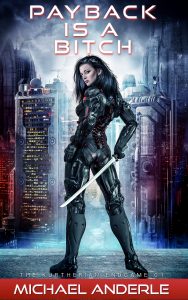 The raven-haired woman stared at the planet below through the docking bay's forcefield. The field allowed ships to pass from the bay into the vacuum of space.
Bethany Anne's alter ego Baba Yaga had begun the process of acquiring a majority interest in most of the interplanetary and interstellar companies on the planet.
Using the wealth she'd acquired as the former Empress of the Etheric Empire, Bethany Anne had spent liberally. Using her Empire's AIs she crushed the competition, making any operation that shipped to or from High Tortuga a losing proposition.
Then she bought the remaining shipping companies for a fraction of their previous worth. Some might call what she did immoral or unethical.
She called it business.
There was a method to her madness, but those who had witnessed her real madness saw nothing but intelligence in her efforts to hide High Tortuga's existence.
She feared that former Etheric Empress Bethany Anne was going to become a pariah in the near future as the Federation stretched its baby legs. She needed a place to stay out of the limelight.
It had to be far enough away that no one would find her, but close enough to bring down the hammer of her warships if the future brought danger.
One danger was the collapse of the effort to create a new Federation of Peoples. Aliens and humans working together to become strong together.
The Kurtherians were still ranging the galaxies taking over other races, and there were most likely other entities willing to overpower others in their quests for domination as well. They might be races no one in the nascent Federation had yet encountered, or they might be from within the Federation itself.
She and her people would be ready when that time came.
Bethany Anne turned away from her scrutiny of the planet and headed toward Michael, her lover and the father of their child. He was waiting for her to board the ship which would take them down to the planet below.
It was time High Tortuga went through its own birthing pains to transform into the planet Bethany Anne believed it could become.
The prototype for…well, some might say she was working for a form of Utopia but that was way too formal. She'd just call it the Motherfucking Practical Political System instead, or MPPS, and it would be an advanced but effective form of government she would transplant (if they could accomplish the mechanics) to her home planet of Earth.
Centuries in the future.
—
HELLO From me! >>> Welcome back!  This is the LONGEST we have been ever without a Bethany Anne book. Just over 12 weeks and SO MUCH has happened in between. However, I'm not going to go into that (on this snippet at least.
This snippet is all about the woman that we love best.
And the one(s) that have no idea who they are going to be tangling with…
Yet.
Looking forward to delivering it to your Kindle (if you pre-order or have already pre-ordered.) We WILL be changing the price early morning Atlantic time – then it will be up to Amazon to update their servers (unfortunately, it took about 24 HOURS last time…dammit!)
Whenever it does happen, we will send out an email, promise!
Ad Aeternitatem,
Michael
Pre-Order link: books2read.com/payback
(Pre-Order is $3.99 – Fan pricing for 24 hours then normal price will be $4.99)