Kurtherian Gambit Fans Write for Fans
Kurtherian Gambit Fans Write for Fans is an exciting new project from Michael Anderle and LMBPN publishing- creating books where fans write fan stories that we publish…for the fans!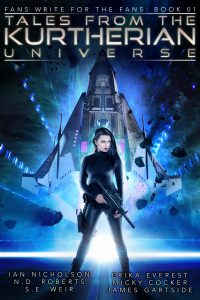 Our goal with the project is not to make money, which is unlikely after paying for the stories, editing, and the covers.  Instead, our goal is to create something fans will enjoy and others will say…"Why the hell didn't we think of that?"
Due to the overwhelmingly positive reaction to Fans Write for the Fans Volume 01, we're doing it all again and are currently accepting submissions for Volume 02. 
Information Center
Download the Kurtherian Gambit Fans Write World Rules
Download the Author Agreement (See link below)
Upload your manuscript (click here) for consideration for publication in the Kurtherian Fans Write Anthology volume 2. Page 1 of your submission file should start with your title followed by "<real name> writing as <author name>". The blurb (max. 250 words) and dedication should also be on the first page, with your story (5,000-8,000 words) starting on a new page. The Author Notes (max. 500 words) are after the end of the story, starting on a new page. When uploading your manuscript you will also be asked for your email address so we can contact you
*** Deadline for submissions to be considered for Volume Two is April 30, 2018 ***
The Process:
Your story will be formatted and made available to readers in the LMBPN Readers Group via book funnel.
Members of the reader's group will read, comment and vote on your story.
The top ranking stories will be selected for the Anthology.  Feedback for all stories, whether selected or not will be provided to the author.
Authors of stories selected for the anthology will complete the publishing agreement, and LMBPN will purchase publication rights to the stories. By submitting your story for consideration in the Fans Write process, you acknowledge you have read the Author Agreement above and agree to the terms therein.
Stories selected for publication will be professionally edited.
The Anthology will be published by LMBPN publishing.
Authors selected for publication will be paid a flat rate of $250 USD for stories published in Volume 02.
Other Links:
Kurtherian Fans Write Facebook Group
LMBPN Reading Group Facebook Page
Download the Kurtherian Gambit Style Sheet