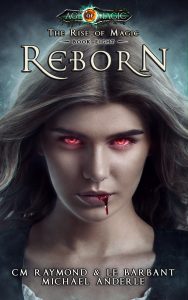 Reborn: Age Of Magic – A Kurtherian Gambit Series (The Rise of Magic Book 8)
What doesn't kill you makes you stronger.
Lilith is dying.
The Laughing Queen is coming.
A series of mysterious disappearances are plaguing New Romanov.
Good thing Team Triple B is on the case. 
In order to save the people that she loves, Hannah must push her magical abilities to the limit. But what if she pushes herself too far?
Reborn is the epic conclusion to the second arc of The Rise of Magic. It's a race against the clock adventure that will change the very fabric of Irth and open doors Hannah never even knew existed.