Meet Jonathan Yanez!
We'd like to introduce the Kurtherian Gambit Universe to Jonathan Yanez. Jonathan is a friend and member of the 20booksto50k Facebook group, and the author of House of Wolves: The Vampire Project, Book 1.
If the blurb below interests you, click the link at the bottom to check out House of Wolves today.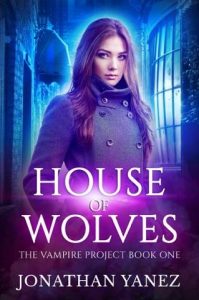 History was wrong: werewolves and vampires were made, not born. Buckle up, Buttercup, this is going to get bloody.
Despite her youth, Captain Charlotte Sloan has risen rapidly through the ranks of the queen's army due to one simple truth; she doesn't take lip from anyone.
But she's about to come up against something she can't beat alone. Gruesome murders have been reported in a far off town. A beast of unknown origin is on the loose and the body count is rising.
If she hopes to survive, Sloan will have to play nice with an assassin well versed in drinking and the best two magicians money can't buy. When the dust settles, one will die, one will find love, and another will be changed forever.
On Pre-Order for $0.99 until the 16th!
Click here to go to Amazon and read the inside 🙂   http://kurtherianbooks.com/gwyo
Check out Jonathan's website at http://www.jonathan-yanez.com/