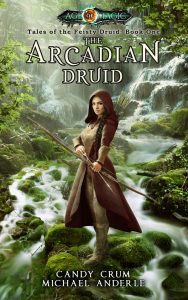 The Arcadian Druid
Tales of the Feisty Druid: Book One
The Arcadian Druid is the first book in a new series in the Age of Magic Universe.
Snippet 1
UNEDITED
By Candy Crum and Michael Anderle
Prologue
Ten Years Ago
        Matriarch… Patriarch… Please don't let her die like this. She must survive. 
Silent prayers filled Elayne's mind; her arms held her young daughter tightly on the horse as they raced through the woods. The Hunters weren't far behind, and death was sure to accompany them.
          The druid said she is extraordinary. Arryn must live. Her mind focused on the promise, to the hope the druid provided.
Elayne pleaded to the old gods as she ducked under a tree branch. Please accept my sacrifice and save her life. I believe she would serve you well.
The sound of iron-clad hooves thundering against the damp ground echoed through the night air, assaulting their ears. The cool wind whipped the coarse mane of their spotted horse into Arryn's face. She closed her eyes tight as Elayne cradled her tighter.
The darkness scared Arryn, and she wasn't quite certain if it was the heavy fog that had settled in the woods or the pounding of the two horses in stride behind them that terrified her more. Things lurked in the darkness—large things with ferocious teeth—especially in the fog, but the greatest threat right then were the Hunters not far behind them. They may not have claws, but they had magitech.
Weapons far worse and much more lethal.
Now, riding on the back of a horse whose thundering hooves carried them further away from Arcadia and closer to freedom, Elayne and Arryn silently prayed that they be delivered to safety—to Elysia, the Druid they had met in the Dark Forest. Free from the Hunters who Elayne could now see were getting closer. Free from Adrien. Free from death.
"Arryn," Elayne said, her voice trembling with fear. She knew the words that she needed to say, but they killed her to speak them. Tears welled in her eyes, knowing what she was about to do. "I love you. I love you so much."
Arryn's entire body stiffened in Elayne's arms at the sound of her voice, and she knew that her daughter was far more aware of their situation than a small girl should have been.
"No! You can't! Please!" her daughter pleaded, somehow knowing exactly what was about to happen.
Elayne had heard that very same tone that she'd just taken in her husband's voice before he'd pulled them both to his chest. He'd hugged them and then forced them to run while he sacrificed himself to the Hunters to buy them time to escape. But it didn't take long for the Hunters to catch on, and now Elayne sounded just as desperate.
"It has to be this way, baby. I can't let you die when I can stop it." Her mother blinked the tears away. "Remember, you have greatness in you. One of these days, you will come back and save our people. Help them, guide them." Elayne squeezed her daughter's waist with the arm that held her in place. "You know where to go. You know what you must do. You'll be safe there."
Arryn began to cry. Elayne felt the tears drip from the girl's cheeks down onto the bare skin of the arm that she had wrapped around her waist. There was no way to know if Christopher had survived, and now Elayne planned to sacrifice herself as well.
It didn't matter as long as their daughter lived…
The sting in her eyes fought the pain in her chest as she continued instructing her only child. "Please. Do this for me. For your father. Don't let us die in vain. Let this be our victory—let your full life be our victory. One day, Arryn, one day you will make this right. Return to Arcadia when you're strong enough and take it back. Do what we couldn't."
Her daughter was too young to understand the love a parent carried for their child, but she certainly understood her love for her parents. Elayne hoped that it was enough to drive the girl forward and allow her never to look back.
"Arryn, promise me!" Elayne demanded, her own need to hear it come back coloring her request.
"I promise," Arryn said, her small arm lifting to wipe away her own tears.
Elayne pulled hard on the reins, the horse crying out into the murky darkness as she did. He slowed to a stop, and Elayne quickly dismounted. She moved to the side and squeezed her daughter's hand.
She pointed down the path. "Hold tight to the reins and head west. That's all you need to know. Stay close to the water. She will find you and keep you safe. I love you!"
Arryn was barely able to choke out the words, "I love you," before her mother slapped the horse's rear, sending him into a full gallop.
Then, her mother turned from watching her daughter streak away, and settled herself in the middle of the path, waiting for those who would do her child wrong.
***
The girl wanted nothing more than to stop. She wanted to go back for her mother, but her instincts and the promise she made drove her forward.
The foggy darkness lit up bright orange behind her as the tortured screams of men echoed throughout the vast wooded land. Suddenly, a bright flash from a magitech weapon filled the sky, and the sound of her mother's pain-filled screams reached her ears.
Then—there was nothing.
No horses. No men on foot. No voices. No screams. Just the sound of her horse running through the night, the tiny branches and ground giving way with every stride. She said another prayer that the Matriarch and Patriarch would take care of her heroic mother, knowing she'd just given her life to protect her.
Blinking the tears away, Arryn focused on moving faster to get to safety. The Dark Forest was a long ride away. The horse would need to stop for water, and she would need to sleep, but fear and desperation pushed her. Her mother had told her to head west and stay close to the water, so she found the Kalt river and travelled along the edge.
Horse and rider traveled as long as they could before her horse couldn't go any farther.
Being outside of a city was new, was scary. After a not-so-restful sleep from losing her mother and anything familiar she'd ever known, she and her misappropriated stallion carried on.
They traveled in search of the druid, Elysia, the woman who only a few months prior had vowed to care for Arryn in any emergency to repay a life debt. As Arryn approached the edge of the lush Dark Forest, Arryn saw people waiting for her.
Elysia was standing there with several other druids. Arryn saw another familiar face with those standing—Elysia's son, Cathillian.
Somehow, the druid Elder had known of her coming. How she knew wasn't important to Arryn at the moment, but the success of her parents' sacrifice, was.
Arryn pulled back on the reins and slowed her horse before slowly climbing off. Taking the reins in her hand and walking alongside him with tears in her eyes, she approached Elysia and the others.
"Oh, Arryn," Elysia said, opening her arms to the young one.
Elysia took in a deep breath. The young girl's presence without her mother could only mean both of her parent's sacrificed all for her child. Elysia's expression was warm, but sad. It held the weight of young Arryn's reality.
Arryn dropped the reins some ten feet from the group and ran into Elysia's arms, the tears finally releasing in a torrent, overflowing. Cathillian stepped forward, placing a hand on her back. She turned her head over to see who was touching her, and he brushed the black hair from her face.
"I'm sorry about your parents," he said in a small, fragile voice. She watched with her eyes as he turned his face to the horse, and with a wave of his hand, her stallion approached. Cathillian took hold of the reins and turned to face her once again. "You have a home here now."
Arryn pulled back off of Elysia's shoulder and nodded to him. "Mourn tonight, child," Elysia told her, gently stroking Arryn's right cheek with her thumb. "Tomorrow is a new day, and we will go to the river to honor them. Tomorrow, you'll say your goodbyes. They will rest well knowing that you're safe."
The words pierced Arryn's heart.
Her mother had said as much. Arryn's life would be her mother's victory. If she wasted her life wishing for other outcomes, she would dishonor her. As Arryn turned and looked into the eyes of the beautiful, golden-haired druid, she knew that her parents' judgement had been well placed.
All Arryn could see was the kindness of her heart, and the smile of a mother.
All Arryn could think about was realizing the future that Elysia had seen for her the day they'd met. The power that Elysia had sensed in her.
Arryn nodded to the woman, promising herself she would become strong enough to return to Arcadia.
And she would avenge her parents.
To find out more about Candy Crum and to check out her other books: http://www.candycrumbooks.com