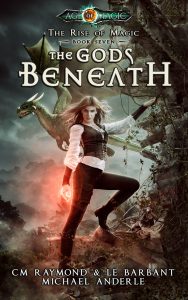 The Gods Beneath: Age Of Magic – A Kurtherian Gambit Series (The Rise of Magic Book 7)
By CM Raymond. LE Barbant, & Michael Anderle
It's easy to believe in ancient myths–but the truth is far more deadly.
The quest to save the Oracle forces Team BBB to split up: one group heads to the top of an ancient mountain, the other into the depths of a haunted jungle.
For Hannah, it's an all out fight that pushes her magic to the limits, while Karl is tasked with something far more challenging–diplomacy. 
Both groups will need to depend on the strength of their teammates, while cautiously navigating the cultures and practices of strange, new inhabitants of the furthest reaches of the world. If the Bitch and Bastard Brigade succeeds, they will have the tools they need to save Irth.
Fail, and all is lost. 
Or as Aysa puts it: Nothing I can't handle with one arm tied behind my back.
Join Hannah and the crew as they encounter The Gods Beneath.