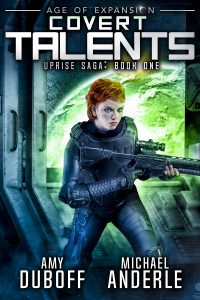 Covert Talents: Age of Expansion, Uprise Saga: Book One
By Amy DuBoff & Michael Anderle
Telepathic abilities alone won't save Ava. Sometimes you need the big guns.
Lieutenant Ava Landyn leads a special ops team of werewolf-shifters. A ten-year veteran of the Force de Guerre, she's younger and smaller than the other warriors, but her unique skills give her an edge.
When a recon mission-gone-wrong uncovers information about illegal nanocyte experiments, Ava is sent on an undercover op to her home planet. A high-tech company may not be what it seems. People going missing. A scientific staff sheltered from prying eyes. Unrivaled security.
Ava is torn between her home and her loyalties to the FDG as her wits are taxed in her struggle to resolve a war no one knew was being waged, but threatens to cast multiple star systems into interplanetary civil war.
Join Ava in her fight for justice!