—
Sheldon had worked on the deal for an hour before he got his first dealership to give up their F12berlinetta.  It deal was at a twenty percent premium, but the sales person didn't ask any questions, so he was going to call it a win.
The second, however, wanted to know who it was for, so Sheldon hung up after a polite good-bye.  The third choice, over in Las Vegas, didn't care about who it was for either.  It was all about the money to her.
The dealership had just received their car, and it wasn't prepped yet.  Sheldon promised that not prepping it was going to be perfect, and if they did not do anything further and got it ready for pickup, he would give them an additional two grand on top of the deal.
The final agreement arrived via email and Sheldon whooped!
With eighteen minutes to go, he sent the information to the temporary contact email address and had an immediate reply.  Who to talk to regarding money transfers and any other legal information to pick up the cars were delivered to his email immediately.  There would be two trucks with twenty-foot long shipping containers to pick up the cars at the dealerships within two hours.
Sheldon was going to reply that there would not be a way to drive the containers over to Miami quick enough and then remembered who his client was.
He snorted to himself and started following up on all requirements.  He told his boss that they had two hours to finish any paperwork because trucks would be arriving to pick them up, he was damned sure.
Not surprising, the financial information went through immediately.  Sure enough, Sheldon called both dealerships at the end of two hours. Both had trucks with big, black shipping containers on the trailers ready to load the vehicles.
One even mentioned that ever since the 'TQB' company put black shipping containers on the moon, everyone now painted their shipping containers black.  As if, he said, they could all fly.
Sheldon kept his mouth shut.  His contact would just have to find out about it some other time.
He received an email that said the cars would arrive at ten pm so most of the crew would be gone, would that be a problem?
Sheldon had already pulled three of the absolute best people from the back and told them he would pay them each three grand to help him prep his three sales that night, or they could trust him, and if everything stayed quiet, they would get something worth far more than three grand.
All three guys agreed that their lips were sealed, and it became a small spy scenario for the four men.  Their manager shrugged his shoulders and handed over the keys.  He knew what was going on and after being in the business for twenty-two years, he had worked with very big names.  So, not being involved in the lady CEO's purchase wasn't a big deal.
Sheldon was pretty sure his boss didn't pay too much attention to the celebrity news and apparently hadn't put two and two together.  Too much time on the golf course with the elite around this town was his best guess.
Oh well, it wasn't Sheldon's job to make sure his boss understood who they would be delivering a million dollars worth of automobiles to in the morning.
He considered the massive opportunity to take pictures and picked up the phone.  He had a family friend back in Orange County, California that had done some pictures for many Los Angeles and Orange County / LA luminaries such as Gene Simmons of KISS, President Reagan and had International Photograph Hall of Fame & Museum recognition.  If he could spend whatever it took to get Mark to arrive by seven the next morning, Sheldon was going to spend it.
After a few minutes talking with Mark, he finally was able to convince him that it would absolutely be worth his time, but no – he really couldn't tell him who it would be.  Just that he would have exclusive shots that would be on the bylines of most of the world's news sites within forty-eight hours.
Sheldon hung up, and then looked to see if he could book Mark a ticket from John Wayne International in OC to Fort Lauderdale, but they had no non-stops.  He was able to go LAX to Fort Lauderdale, so he grabbed those tickets and sent the information immediately to him.
The 'spy posse', as they had named themselves, were working to get the first car ready and laying out the plans to make sure they could bring the other two F12's online as fast as possible when they finally arrived.  Everyone was going to take naps and make sure there were no screw ups.
Now, it was going to be a waiting game until ten PM that evening.
TO BE CONTINUED
Suggestion for 'while you are waiting' and 'please don't get out the pitchforks!'
TH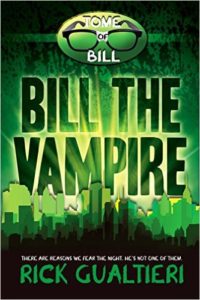 ERE ARE REASONS WE FEAR THE NIGHT. HE'S NOT ONE OF THEM.
Bill Ryder was a dateless geek, but then he met a girl to die for. So he did. Unfortunately for him, that was just the beginning of his troubles. He awoke as a vampire, one of the legendary predators of the night. Sadly, fangs or not, he was still at the bottom of the food chain.
Now he finds himself surrounded by creatures stronger, deadlier, and a lot cooler than he is … and they all want to kick his teeth in.
Bill isn't exactly average, though. A vampire like him hasn't been seen in centuries. He's got a few tricks up his sleeve, unlikely allies, and an attitude that makes him too damn obnoxious to quit.
Join him in this hilarious tale of immortal monsters and the unlikely hero who's not afraid to tell them off, even if it gets him killed – permanently this time.