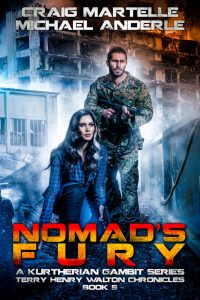 Settled into their new home of North Chicago, Terry and Char find more enemies than they suspected. Faced with their greatest threat, they put the FDG into action against a Forsaken who's surrounded himself with a small army of loyal humans. With Akio's aid, they go to war.
"I swear this series just gets better and better. "
"The saga of TH and Char continues as they protect the innocent and attempt to return civilization to the people. The characters and story are great as usual. I found myself more and more engrossed as I devoured the book."\
Nomad' Fury – Terry Henry Walton Chronicles 05 Has been Released!  On sale for $0.99 today (Friday here in the States.)
Amazon Book Page: Nomad's Fury (Terry Henry Walton Chronicles 05) (U.S.)
Blog: http://kurtherianbooks.com
Facebook: https://www.facebook.com/TheKurtherianGambitBooks/
I hope you enjoy continuation of TH's story!