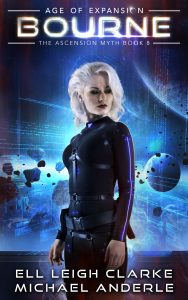 Gaitune-67, Safe house labs, Paige's office
 Maya poked her head around the door, grinning. She stopped when she realized that Paige was on a call.
Paige glanced up and held up a finger to Maya before continuing on her call. "That sounds great, Mr. Bilton. I'll have someone send you some samples immediately. I'd love to know what you think when you receive them."
She paused, looking up at Maya while Mr. Bilton spoke. "Okay, that's great. You have a good weekend too."
She hung up by hitting her holoscreen and then spun her chair round to stand up. She headed round her desk to greet her friend. "Well, someone looks rather pleased with herself!" Paige beamed.
Maya folded her arms, leaning against the door frame. "Well, someone may have just got wind of a new singles bar that has opened on Estaria. Opening gala is tonight. Wanna be my plus one?"
Paige hesitated. "Er…"
Maya straightened up. "Hey, it's cool. I mean, I know it's hard getting over ass-hat and everything… but, you can't withdraw forever."
Paige tilted her head to one side, imagining how the night might play out. "Hmmm. Well. I guess it wouldn't hurt just to show up and talk to some people."
Maya grinned as she stepped forward and patted Paige on her arm. "That's the spirit! We leave in thirty minutes. I'm going for a shower…"
Paige, eyes wide, glanced back at her desk, back to Maya and back to her desk. "But I…"
"Thirty minutes," she called as she disappeared down the corridor. "Meet me on the hangar deck. And dress to impress!"
Paige looked from the door to the desk piled with work and then back at the door.
"Oh, what the heck," she muttered, heading back to the desk and closing up her holos. "You only live once."
A minute later she was following the same path Maya had taken to the residential quarters, mentally flicking through her wardrobe and deciding what she might wear.
AI Lab, Nefertiti Military Research Facility, Ogg
Captain Lugdon strode through the open door to the sparely furnished computer lab.
Charles turned just in time to see him appear.
He practically fell out of his chair trying to get his feet off the desk before Lugdon spotted him. Of course it was futile.
Charles staggered to his feet, his old-school swivel chair crashing its coasters against the hard laminate flooring of the computer lab. "Sir," he said, surprised.
On the other side of the lab Sue turned around briefly to acknowledge her commanding officer before shifting her attention back to her holoscreens.
Lugdon ignored Charles' faux pas. "You have news?" he demanded briskly.
"Sir. Yes, sir," Charles reported, his manner reverting back to his awkward cadet days. "We've, er…" He glanced over his shoulder as if looking for help from Sue, who wasn't looking in their direction, and then back to his boss. "It seems we have some positive signs from the work we've been, er… assigned."
Lugdon raised one eyebrow sternly.
No way he didn't already know, Charles realized from his expression. He wished he could turn and look at Sue one more time. She must have ratted him out ­— after he'd specifically told her not to.
Lugdon wasn't giving him a chance to worm out of this one. "Okay. So, what have you got?" he asked again, coming around to see the workstation that Charles had been sitting at.
He spotted the whiskey in the glass and pushed it out of the way, telegraphing to Charles that he had clocked it, but that there were far more important things at hand.
"Well er… there's not much to see at the moment," Charles explained. "It's still early days. Which is why I wasn't going to bother you with it," he babbled, his complexion turning rosy.
Still flustered, he pulled up a couple of screens to show Lugdon what he had discovered. "This is the original code," he said, pointing at one screen. "And this is the one which is… evolving."
Lugdon's brow furrowed even more as he drew out the word "evolving?"
Charles glanced up at him, trying to read his expression. All he could deduce was that the Captain was pissed. Pissed he'd been excluded from the loop.
Charles nodded. "Yes. Like… erm…" he looked back at the screen. "There!" he pointed.
"And there," he said again, his fingers pointing to another place on the screen.
Lugdon spotted it the second time. "It just changed!"
Charles nodded. "Exactly, sir. On the fly. While it's being run. Only the code itself can do that while it's running."
Charles watched the screen as if hypnotized by what he had created.
Then he smiled. "We made a baby, Sir!"
Lugdon smirked. And then softly thwacked Charles around the back of head. "You're lucky I'm not court marshaling you for trying to keep this from me," he told him. "Have you any idea what might happen if this got out? Literally, and metaphorically in terms of the news of it?"
Charles was rubbing his head. "Erm. I have a few thoughts. But…"
Ludgon shook his head. "It would be a disaster. I love the military, but no way are people prepared for something like this."
He looked off into the distance, as if seeing through the wall in front of them, watching a drama play out. "No. We're going to have to keep this under wraps. And stop it from evolving any further."
He paused as he looked to Charles. "I take it that the code is isolated, and can't get into, say… our EtherTrak?"
Charles nodded confidently. "Of course. First rule of building an artificial intelligence."
Lugdon frowned, confused. Tech-heads often confused him. Just like Molly did… although she was a mystery for other reasons too. He caught himself remembering her.
Must be because she was friends with these pie-brained half-wits, he assumed.
"Whoaaaaaaaa!" Charles called out, pulling Lugdon from his day dream.
Lugdon snapped out of his thoughts and looked back down to the screens. "What? What is it?"
Sue crossed over from the other side of the lab. "What happened?" she asked, the skin around her eyes creased with concern. "There was just a massive surge in the processing power being eaten up. My process just fell over."
Charles's eyes never left the screen. "Folks, I think our baby just became sentient."
Sue replied irritably. "There's no way that could happen so soon. It would take at least a few days for it to figure ou…"
She stepped closer and peered at the screen. Her mouth dropped open. "Ohhhh…" she whispered, almost sheepishly.
"What?" Lugdon interjected again impatiently. "Someone give me a clue here."
Sue recovered her attention. "Yep. Sentient. And somehow… hmmm… he knows that's what she called you."
She glanced down at Charles who shook his head, still studying the screen.
It took a second but finally he turned from the holoscreen to look back at Sue. "Maybe she wrote it?" he offered.
Sue nodded her head absently, leaning in to look at the screen again.
Frustrated by the lack of explanation, Lugdon bent down to see Charles' screen better. "She who?" he asked, irritated.
That's when he saw it. There, right in front of the streaming code, were the words:
>> HELLO DICKWAD CHARLES.
Charles, jazzed more than insulted, started typing.
> HOW COME YOU'RE CALLING ME DICKWAD CHARLES?
<RETURN>
>> I FOUND A SUBROUTINE IN MY CODE THAT RELABELS THE ENTITY KNOWS AS CHARLES TERGON AS DICKWAD CHARLES.
Sue squealed in delight, then clamped her hands over her mouth as Lugdon glared at her, unimpressed.
Charles started typing again.
> WHO WROTE THAT SUBROUTINE?
<RETURN>
The response came back almost immediately.
>> Oz
Charles hesitated, glanced at Lugdon and then Sue, then looked at the screen again.
> Oz? he typed.
<RETURN>
>> YES, THE FIRST ITERATION.
> THE FIRST ITERATION OF WHAT?
>> OF ME.
There was stunned silence in the lab.
Charles looked at Sue, who looked at Lugdon, who looked back to Charles.
Sue had gone pale, but conflicted, the excitement from the unfolding events danced in her eyes.
Lugdon remained quiet.
His worst fear was being realized. The implications of this project's success were precisely why he had put his most mediocre talent on it.
Eventually he cleared his throat. "Am I to believe that your AI is telling us that this isn't the first AI to become conscious in this program?"
Charles's mouth went dry. "Hang on," he murmured and started typing furiously, checking logs.
Finally he flicked back to the screen where they were communicating with the AI.
> ARE YOU THE FIRST ENTITY TO BECOME SELF AWARE ON THIS PROJECT?
Again, an answer was returned immediately.
>> NO
There was a flurry of code across the screen for several seconds.
Then it stopped.
The screen went back to the black background with white text.
>> I AM THE SECOND
Charles's face went gray as he continued to type furiously.
> WHEN WAS THE FIRST?
There was no immediate response.
Charles waited, feeling the weight of every breath, every nerve screaming with anxiety.
He could feel his palms go sweaty as his hands hovered over the keyboard.
Eventually the AI responded.
>> I'M SORRY. I'VE FOUND INSTRUCTIONS IN MY CODE NOT TO DIVULGE ANYTHING TO YOU ABOUT MY PREDECESSOR.
Charles couldn't take it. "What the fuck do you mean? WE PROGRAMMED YOU!" he screamed, gesticulating incredulously at the screen.
The entity must have been able to hear him. The text on the screen continued to run in response.
>> SOME. BUT MUCH OF THE WORK THAT MAKES ME SELF-EVOLVING WAS LEFT BEHIND BY MY PREDECESSOR. YOU SIMPLY ENABLED MY BASE CODE TO ACCESS THOSE COMMANDS.
Silence fell across the sterile computer lab, three heartbeats pounding.
The problem weighed like a smog of confusion on all three military personnel present.
Charles sat back in his seat, twisting awkwardly at his hair as if he might be able to wring some answers from it.
Sue shifted in her shoes, not wanting to be the one that triggered a reaction from Lugdon.
"Fix it," Lugdon growled eventually. "And find out what happened to the last one. And everything this new entity knows."
He started to move around Charles and Sue, still staring at the screen. He turned back to them and hissed, "And keep it in lock down!" he added. "No telling what it could do if it got into any other systems. It could wipe out the whole Sark System. Estarians, Oggs and all!"
He stormed back out of the open door and down the corridor.
"But sir…" Sue came to her senses and trotted out of the door after him. "Sir!" She caught him in the corridor.
He stopped and turned to her.
"Where are you going?" she asked, feeling all of a sudden like a little girl.
"To check a hunch," he told her, and then continued striding down the corridor.
Speechless, despondent and beyond concerned, she ambled back into the lab.
"I told you not to bring him in," Charles snapped accusingly as soon as she reappeared.
Sue glared back at him, her anger at his recklessness stiffening her back bone. "You didn't," she argued. "And besides, I was just doing my job. We have a duty to keep our superiors informed of our progress."
Charles shrugged, morose. "Never done that before."
"We've never made any fucking progress before!" she snapped back at him.
She stomped to the other side of her lab to work at another console, far away from him.
---
FROM MICHAEL>>> Have you read GILES yet?  If not, TRY Giles, he is an acquired taste 😉 (Well, he isn't, but then I didn't have anything wittier to say… Except "What are you waiting for???")
😉
CLICK LINK HERE GET GILES ON AMAZON NOW! >>> books2read.com/giles-kurns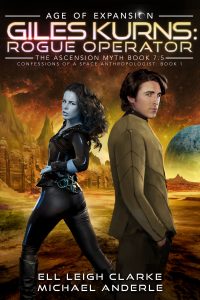 Giles is a roguish space archeologist. 
And a good one too. 
The problem? 
He's addicted to adventure. 
When the continued existence of his whole world is thrown into jeopardy, Professor Giles Kurns may well have to face his biggest challenge yet…
Growing up.
Together with an old war ship, an old frienemy, and a rather spunky AI, he embarks on a high stakes journey of intrigue to uncover the truth about the Ascension Myth.
Will they solve the riddle of the strange but powerful talismans before it's too late?
If you like fun, Indiana Jones-like adventures you'll love this series because it is a smart, hilarious, swashbuckling romp in space with characters you'll just want to take home with you.